PACKAGING AND DELIVERY
Packaging system that facilitates assembly and application
It is one of the principal targets of Stoneline to dispatch each stone perfectly and to deliver them to the destination without any fault. We package each product taking into consideration distance, dispatch type, unloading conditions and product specifications, and place them into cases and bundle them based on international standards to ensure freight safety.
Packaging and delivery details
1
PACKAGING SELECTİON AND PREPARATİON
Packaging selection and preparation: Packaging is selected based on product specifications. We choose bundle for slabs, cases for bigger products and sensitive packaging systems for delicate products to be delivered by air. The wood that is used in case of bundle and casing complies with international standards.
2
PACKAGING
Packaging: We place nylons between each slab so that they are not scratched. The interior frame and base of each case is supported with 2 cm thick styrofoam and polyethylene lining is placed between stones. Cases are covered by nylon and then surrounded by plastic circles so that products are fixed inside the casing. This protects products from external impacts.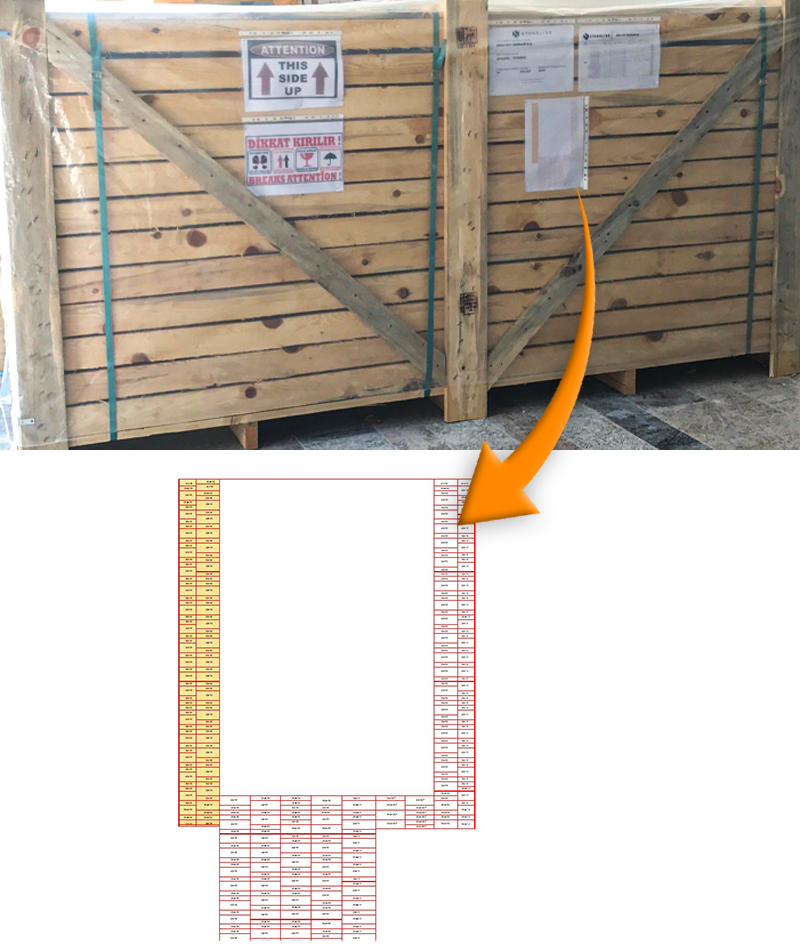 3
LABELING
Case labeling: We attach labels that show the selection of the case. The stones that have been grouped and/or numbered during dry lay at the factory are packaged separately. We attach content information, marked layout and photos taken during dry lay on the packaging. While this process is quite difficult to be organized on site, all these preparations at the factory allows an easy assembly process eliminating loss of time during assembly and installation.
4
LOADING
Loading: In case of container delivery, we fix bundles and cases with wood plates passing over them. In case of truck or trailer delivery, cases are fixed to each other with wood and also to the vehicle with wedges and safety straps. We also take photos of the vehicle during and after loading and sealing of the vehicle. Containers are disinfected in case of export operations.
SPECIAL SERVICES FOR ARCHITECTS