DRY LAY
Dry lay of project stones and quality control
At this stage, stones are cut and processed in detail and then prepared for simulation by the process called dry lay. These stones are quality controlled based on their visual/physical status and selection and then photos are taken. Those photos are sent to the project owner. Following customer's approval, stones are checked once again in respect of quality and numbered based on project reference and/or grouped according to the selection. Relevant notes are taken on the layout and then prepared for dispatch.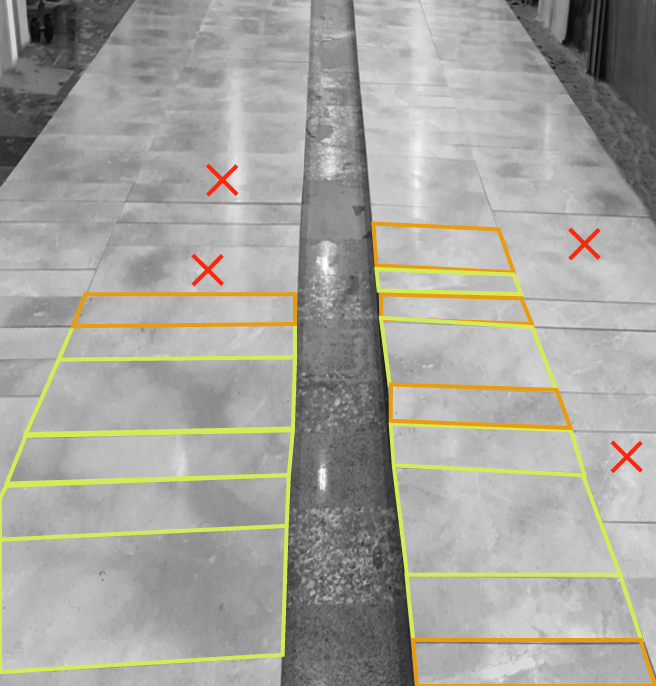 1
SELECTION AND PRELIMINARY QUALIITY CONTROL
Firstly, preliminary quality controls of the stones laid on the ground are executed. The stones which are damaged during the production process and/or not suitable for selection are discarded and new ones are cut. Then, spatial selection grouping of the stones are made.
2
LAYOUT PHOTO SHOOTING & APPROVAL
The layout photographs are shot and provided to the project owner for approval. Photographs are checked individually, alteration requests are fulfilled, and the approval process is completed therein.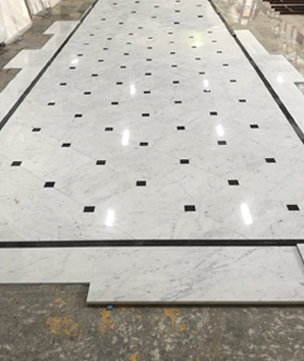 3
ENUMARATION
After the general approval of the stones, which are laid in the same location as determined in the project, the stones are numbered or grouped in accordance with the selection phase. Numbers or groups are also noted on the layout. The stones are shipped with the numbered plan and the layout photograph.
4
QUALITY CONTROL
Quality control of each stone which passes through the stages of production, pre-quality control and customer approval is carried out. These controls include physical and visual control and compliance with the project of the stones. After retrieving the quality control approval, they are packed.
5
PACKAGING / GUIDE OF ASSEMBLY
During dry lay process, grouped or numbered stones are packed individually; content information, marked and numbered projects and photographs taken in the layout phase are placed carefully on the packages. This process, which is difficult to organize in the construction site environment, ensures better management of the assembly and prevents time loss in the installation and assembly stages, and this service is the service that needed to minimize the risk of error.
ADVANTAGES BROUGHT TO YOU BY DRY LAY
If your project consists of fixed size stones, you can see the harmony between the stones and identify selection and group them per space.
You can see the simulation of your project and check the design thanks to dry lay.
The stones that are grouped and numbered according to the project during dry lay are packaged with detailed information recorded on top of the packaging. Such information will also guide the assembly team. This prevents loss of time and eliminates the risk of mistakes.
Final quality control of stones are performed at this stage and stones can't leave the factory without this final quality control approval.
SPECIAL SERVICES FOR ARCHITECTS